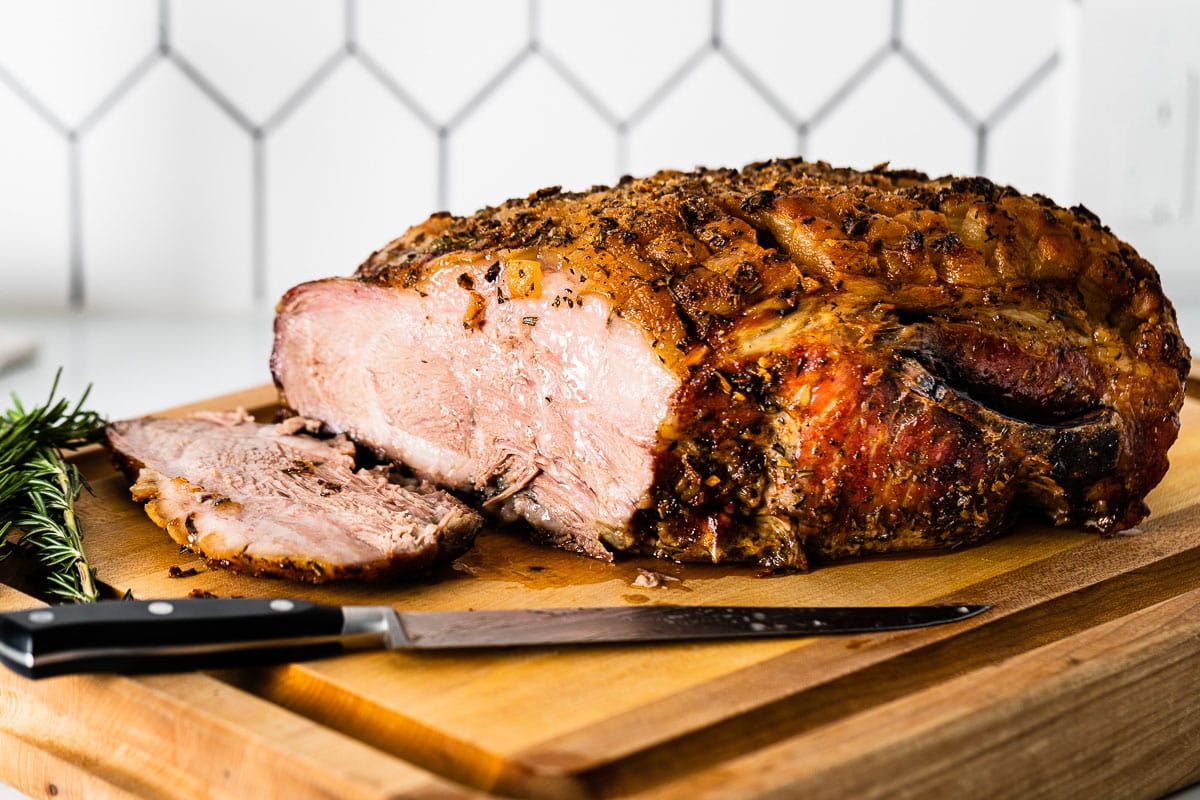 So you have a nice, big, beautiful pork shoulder, but don't quite know what to do with it. This large, very cost-effective piece of meat is great for feeding a lot of people, or a family for many meals. It is also great for freezing, so eat some now and freeze the rest for later.
When it comes to pork shoulder (A.K.A. pork butt), there are so many amazing ways to cook it. It can be smoked, cooked in an instant pot or pressure cooker, slow cooker for pulled pork, sous vide or even sliced into steaks and grilled.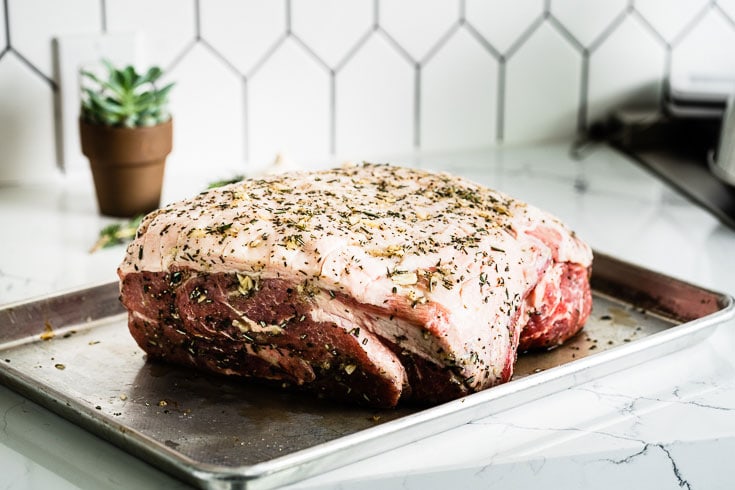 My go-to "set it and forget it" method is to slow roast the shoulder using a low-temperature oven. A digital probe thermometer is essential to not having to stress or even open the oven until it's actually done cooking. Applying a garlic-and-herb marinade paste the night before really infuses those flavors deep into the meat, but doing it an hour or two before while the meat comes to temperature (tempers) is just fine, too. Especially since it will be roasting for such a long time.
Once you have it cooked, there are virtually endless uses for this succulent pork. From slicing and eating like a holiday roast to shredding and crisping up in a pan for tacos, enchiladas, or salads, and everything in between. Even eat it for breakfast, as pork and eggs -- might be even better than bacon. Maybe. 😉
It's like a prime rib roast, but not even close to being comparable when it comes to cost. Pork shoulder is way cheaper, and one of the best things is you really can't mess it up. There aren't many pieces of meat that are this delicious and can feed this many people for less than $1 per person. This 11-pound pork shoulder (pictured in this post) was just $16 on sale. Crazy, right?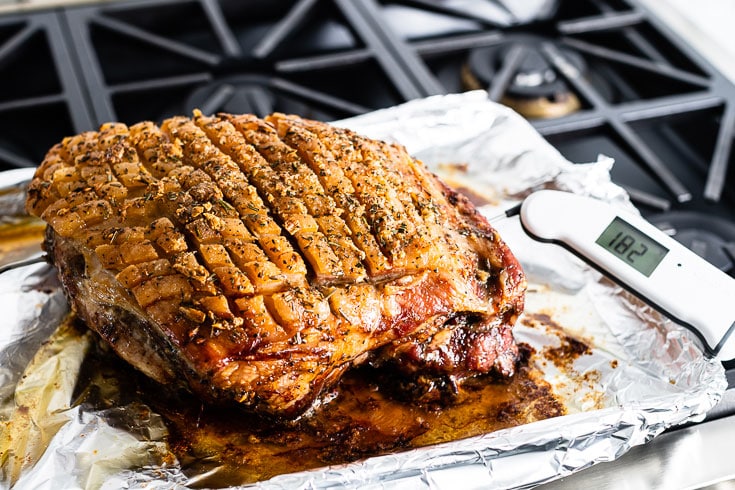 "Low and slow" the roast to perfection. And perfection to you might be different than perfection to me. Maybe you like it "fall-apart tender" for shredding, or maybe you like it a little firmer and sliced thin. The longer you cook it, the higher the internal temperature will reach, resulting in a more tender and "fall-apart" meat. For a standard "roast," bring it to a finished temperature of 185 degrees F. For fall-apart pulled-pork perfection, continue to cook it until the internal temperature reaches 195 to 205 degrees.
Either a Bone-In or a Boneless Pork Shoulder Will Work
While some may say the bone adds flavor, I generally opt for boneless pork shoulder because it is all usable and you don't have a bone to deal with. If you do have a bone-in roast, removing the bone with a boning knife after it is cooked is super easy. It should just slide right out if it is cooked enough.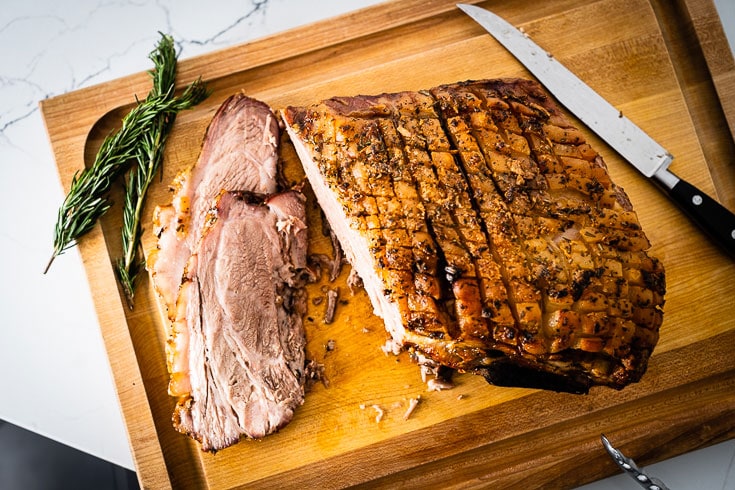 Useful Tools & Equipment
Pro Tips for Roasting Pork Shoulder
Score the skin in a cross-hatch pattern. This helps render the fat for crispy skin, makes for a beautiful presentation and also helps the marinade and salt penetrate the meat.
Use plenty of kosher salt. It's a big piece of meat and can handle it.
Temper, temper. Bringing the pork shoulder up to room temperature (which can take a few hours) will help promote even cooking.
Make for easy cleanup. Double-foil line your baking sheet. And use the heavy-duty high-quality stuff so it doesn't rip. This makes for a much easier cleanup.
Place the meat on top of a wire rack. The oven air will hit the bottom as well. This is optional as you can see I didn't do it for this roast and it still came out perfect.
Leave your hood vent on low. Lots of delicious smells will be coming from the oven and while they are wonderful, it's nice to have most of them exhausted out of your hood if possible. You can also just crack a window open.
Roast it overnight. If you don't have all day to cook, you can roast it while you sleep and enjoy the next day.
Serve it warm. Because of the high-fat content of pork shoulder, serving it cold is not optimal since the fats will be solid. Heat it up in a low oven or crisp up in a skillet before eating leftovers (my preference).
Meal Plan Your Week Around This Roast Pork Shoulder
You can easily get a week's or more worth of meals out of one large roast. From slicing and eating like a holiday meal, to making tacos, pulled pork sandwiches, to other endless options (check out all our leftover pulled pork recipes. It's fun to see the variety you can come up with and it's so much less work on busy weekdays. And still have some leftovers to freeze.
Perfect Sides for Your Pork Roast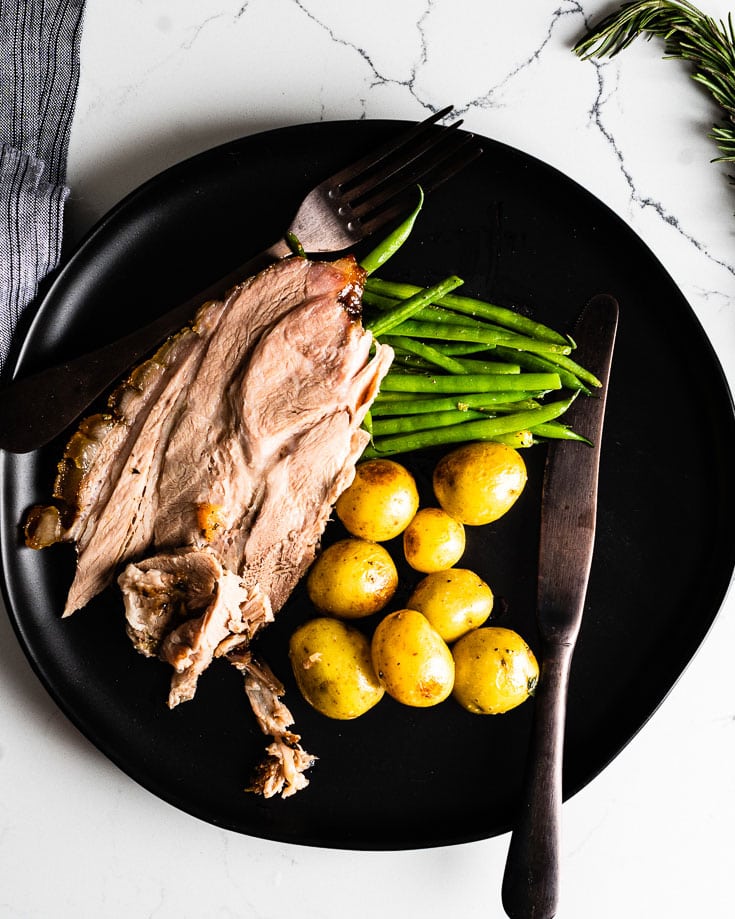 More Delicious Pork Shoulder Recipes
See all the pork recipes →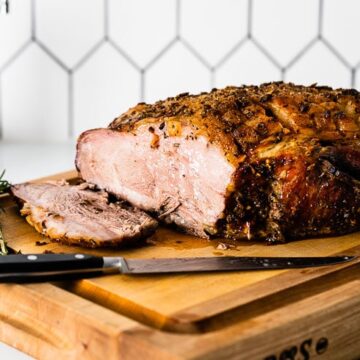 Roast Pork Shoulder
Garlic and herb-crusted slow-roast pork shoulder is the easiest piece of meat to make for a week or to feed a hungry crowd.
Print
Pin
Rate
Ingredients
6 to 12

pound

Bone-In Pork Shoulder

(this one is 11.6 lbs)
Garlic & Herb Rub
4

Chopped Garlic Cloves

2

tablespoon

Chopped Fresh Rosemary

1

tablespoon

Chopped Fresh Thyme

1

tablespoon

Olive Oil

2

tablespoon

Diamond Kosher Salt

(or to taste)

2

teaspoon

Sugar

2

teaspoon

Ground Black Pepper
Instructions
Make the rub by combining the ingredients in a small bowl or use a mortar and pestle to make it into a paste.

Prep the pork shoulder by patting it dry on all sides with paper towels and trim off excess fat. With a very sharp knife, score the fat side with a ½" crosshatch pattern going all the way through the fat, but not into the flesh.

Apply the rub marinade on all sides and either ideally refrigerate overnight or let it sit out for a few hours to marinate.

Preheat the oven to a low 275° F / 135° C.

Cook the roast: Place the pork roast on a double foil-lined rimmed baking sheet or roasting pan and then into the oven. You can also use a wire rack to set the roast on so the air circulates all the way around.

Rest uncovered for at least 30 minutes. The temperature will rise another 5 to 10 degrees.

Optional sear for even crispier skin: If your roast didn't get super crispy, you can sear it in a hot oven for a short period of time. After resting the pork shoulder for 30 minutes, preheat your oven to 450° F. Place the roast back in the oven to sear. This will require rotating every 5 minutes or so until it is seared on all sides: 10 to 20 minutes total depending on your oven.

Serve it by slicing it against the grain or shredding it. Serve warm.
Notes
Temper the meat (bring to room temperature) before roasting. This will promote even cooking.
Either a bone-in or boneless pork shoulder will work.
Cook time will be approx 35 to 60 minutes per pound in a 275° F oven (yes, there are a lot of variables). This 11.6 pound shoulder took 6.5 hours.
To make pulled pork; cook until the internal temperature reaches between 195°-205° F.
Rest uncovered and unwrapped to preserve the crispy skin.
Nutrition
Calories:
133
kcal
|
Carbohydrates:
1
g
|
Protein:
16
g
|
Fat:
7
g
|
Saturated Fat:
2
g
|
Polyunsaturated Fat:
1
g
|
Monounsaturated Fat:
3
g
|
Cholesterol:
56
mg
|
Sodium:
761
mg
|
Potassium:
292
mg
|
Fiber:
0.1
g
|
Sugar:
0.4
g
|
Vitamin A:
29
IU
|
Vitamin C:
1
mg
|
Calcium:
16
mg
|
Iron:
1
mg