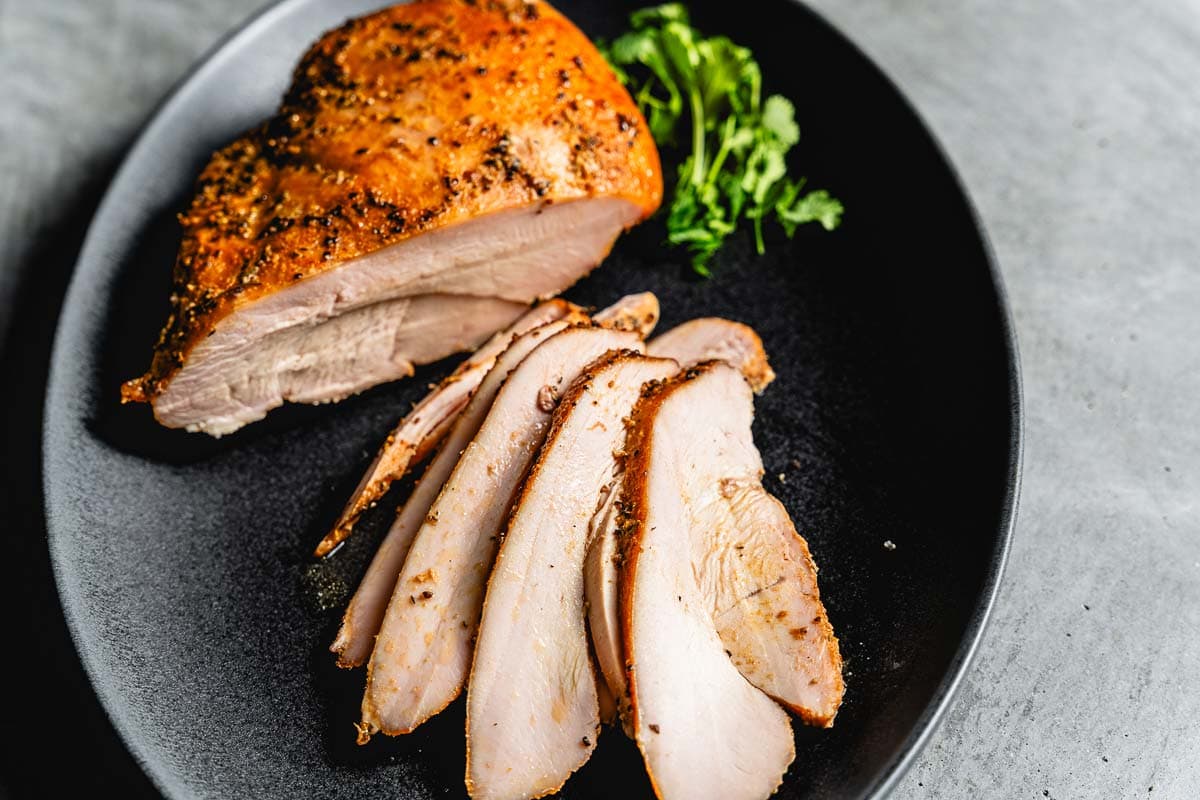 Smoked turkey breast is often overlooked in favor of more popular barbecue meats like ribs, brisket, and pork shoulder. However, when properly seasoned and smoked, turkey breast can deliver incredibly satisfying flavor and texture.
I used to always opt for fatty cuts of pork or beef when visiting barbecue restaurants, never considering turkey as an option. That changed when someone handed me a slice of smoked turkey breast to try. I was surprised by how juicy, smokey, and full of flavor it was - right up there with my usual favorites.
Since that taste test, I've become a convert. Now I specifically seek out smoked turkey breast when browsing barbecue menus. I've learned not to underestimate this lean yet deeply flavorful meat.
If you're hosting Thanksgiving, Christmas or New Years and plan to smoke a turkey, consider just smoking turkey breasts instead of the whole bird. It's much simpler and less stressful. Ribs, brisket and pork shoulder may be the typical go-to smoked meats, but turkey breast is a seriously underappreciated option. Give it a try - you may just find a new favorite.
Why You'll Love It
It's accessible and easy to find. Turkey breast is readily available at most grocery stores and online year-round.
It's easy to prep and cook. Seasoning is simple, usually just salt and pepper. Smoking a breast is less involved than tackling a whole bird and cooks much quicker.
Carving is a cinch. Slicing up a smoked breast is easy.
It's versatile. A smoked turkey breast can star as the main event for holidays, backyard barbecues, or everyday meals. It also makes for fantastic lunch meat.
The leftovers are incredible. Smoked turkey reheats beautifully and works in all kinds of sandwiches, salads, casseroles, and more.
It's less stressful than a whole bird. Focusing just on the breast is much more manageable.
You can nail the perfect doneness. With a whole turkey, it can be a little tricky to ensure that both the dark and white meat are properly cooked. The breast alone cooks evenly to ideal juicy perfection.
What You'll Need
Turkey Breast - The turkey featured here is a beautiful Diestel Organic Turkey Breast, which they gifted to me for this recipe. Their turkeys are available to buy on their website find where to buy locally.
Kosher Salt
Coarse 16 Mesh Black Pepper
Dry Rub (optional)
Butter
Pellets or Wood Chunks for Smoke - Post oak is traditional in central Texas BBQ, but pecan and fruit woods like apple or cherry also pair wonderfully with turkey.
Aluminum foil to wrap the breasts in mid-cook.
Do I Need to Brine it?
I highly recommend dry brining the turkey breast overnight to enhance flavor and retain moisture. Dry brining involves simply seasoning the meat with salt and letting it rest uncovered in the fridge. This allows the salt to penetrate deep into the breast meat, seasoning it throughout while also helping it retain moisture during cooking.
That said, since we're smoking the breast at a fairly low temperature, and then wrapping it with butter, it's still going to turn out incredibly juicy and flavorful even if you skip the brining step. The long, slow smoking time and the richness of the butter will keep the meat very moist.
So while dry brining is ideal for the most seasoned, succulent smoked turkey breast, you can certainly skip it if you're short on time.
How Long Will It Take to Smoke a Turkey Breast at 250° ?
Smoking a 2 lb boneless turkey breast at 250°F will take approximately 2 to 3 hours to reach an internal temperature of 157° F, which allows for 5 to 7 degrees of carry-over cooking during the rest to reach 165° F internal.
Always cook to temperature rather than time as there are a lot of variables in cooking meat.
What Temp Should You Smoke it At?
Between 225°-275° F depending on your smoker. If you use a pellet smoker, I recommend smoking at a lower temperature to achieve more smoke flavor. In a charcoal smoker, you can go up to 275° F.
Keys & Tips For Success
Don't overcook the breast - Pull it out of the smoker 5-7° F before the desired finished temperature of 165° F.
Wrap around 148° F (10 degrees prior to the pull temp) after it has already gotten a lot of smoke flavor.
Use a remote probe thermometer inserted into the thickest part of the breast. Use multiple probes for multiple breasts for perfect doneness.
Use a water pan in the smoker for extra moisture and to catch the drippings.
Slice against the grain for tenderness.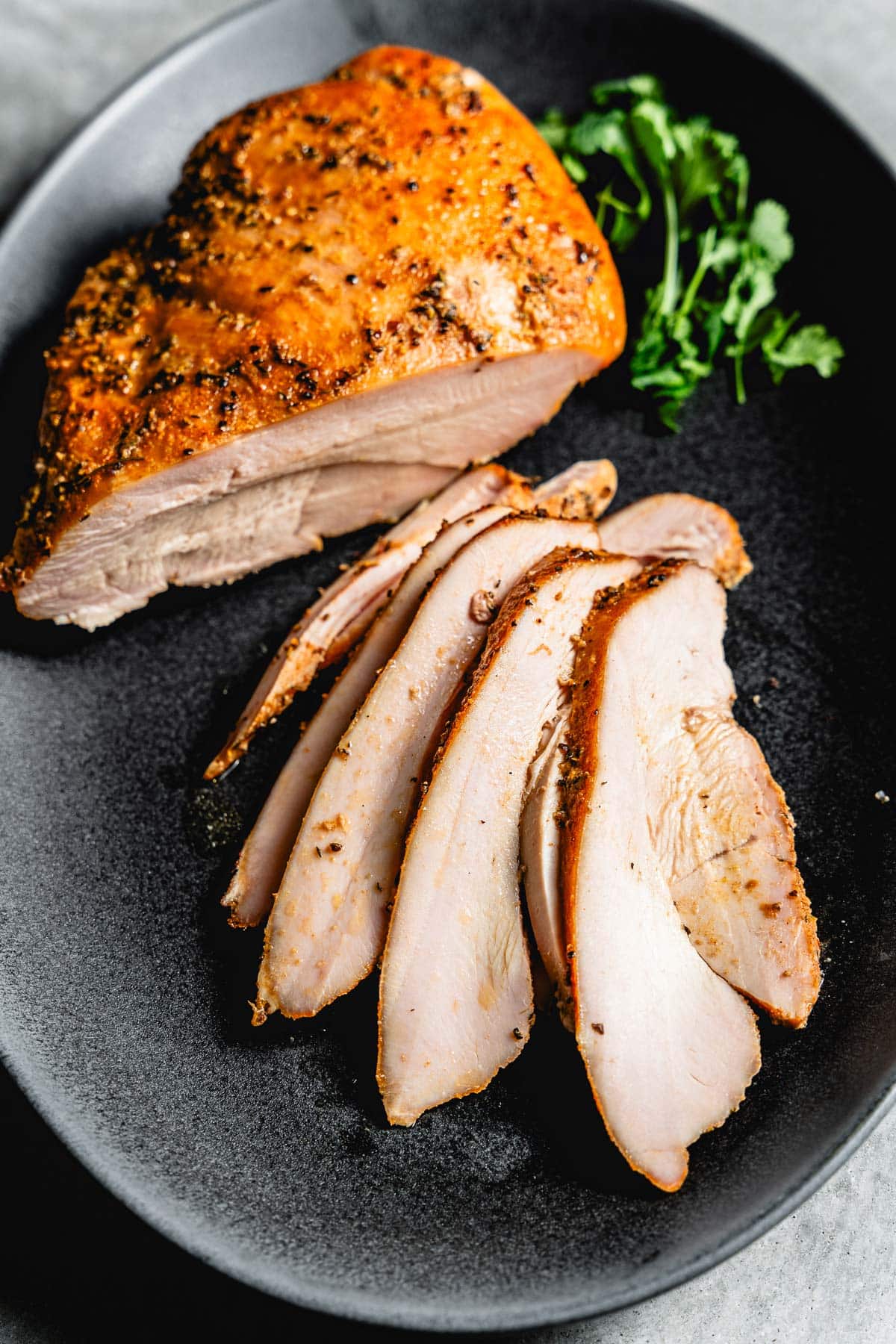 Make a Gravy with the Drippings
The foil packet is going to contain some delicious juices combined with the butter after the turkey breast rests. Save that and make some super easy and simple gravy that will pair perfectly with the turkey. To make an easy gravy, simmer turkey drippings, then whisk in a slurry of 1 tablespoon cornstarch dissolved in 1 tablespoon water per cup of drippings and simmer until thickened, then season with salt and pepper.
Storage and Reheating
Storage
Store leftover smoked turkey breast in an airtight container in the fridge for up to 4-5 days.
Sliced turkey can also be frozen for several months. Place slices in a freezer bag or vacuum seal.
Reheating
Reheat slices or pieces of smoked turkey breast in the microwave until warmed through in 30-second to 1-minute increments, depending on how much you are heating.
For juicier reheated meat, place slices in a skillet with a little of the drippings from the foil packet, some broth or water and reheat over medium-low heat.
Chopped smoked turkey is great reheated in soups, chilis, casseroles, and pasta dishes.
What to Serve with It
Smoked turkey breast pairs nicely with a variety of classic side dishes. Creamy mashed potatoes are a perfect match, soaking up the turkey juices. Green beans tossed in butter make a nice light vegetable side. For heartier fare, scalloped potatoes or a sausage stuffing loaded with veggies are excellent options. Round out the meal with some buttery carrots or roasted sweet potatoes and a light and bright arugula salad with a lemon vinaigrette.
More Delicious Turkey Breast Recipes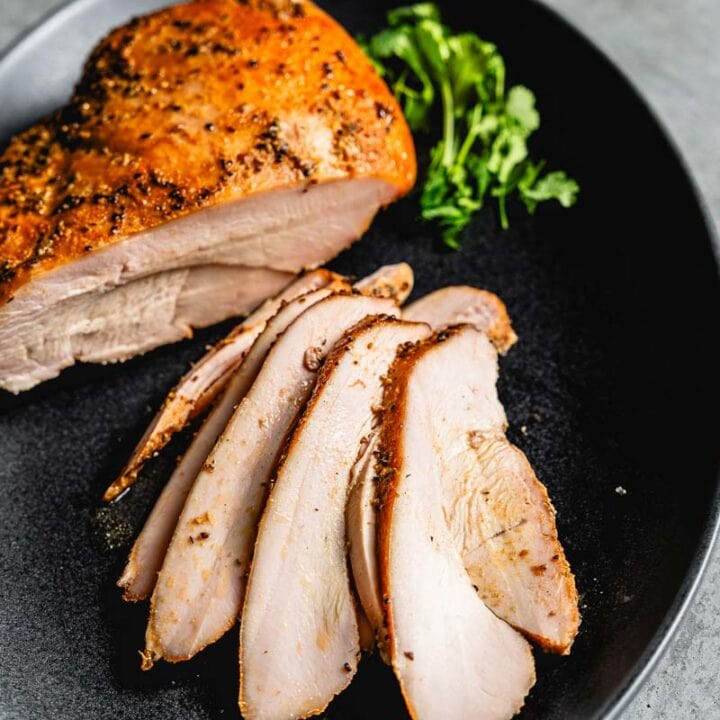 Smoked Turkey Breast Recipe
Transform turkey breast into an impressive, mouthwatering BBQ. This easy Texas style smoked turkey breast recipe gives juicy, tender meat with sweet, smoky flavor from a few simple ingredients and easy steps.
Print
Pin
Rate
Equipment
Wood for smoke

oak, pecan, apple or cherry are all good

water pan

foil to wrap
Ingredients
1.5 to 2

lbs

boneless, skinless turkey breast

5

teaspoon

Diamond kosher salt

(or 3 teaspoon Morton kosher salt)

5

teaspoon

coarse 16 mesh black pepper

optional: turkey dry rub

(see note)

4

oz

unsalted butter

(melted or softened)
Instructions
Prep
Optional: Dry brine the turkey breast overnight or for 24 hours before cooking to enhance flavor and moisture retention.

Season the breast with salt (if not brined) and lots of coarse black pepper. Add dry rub if desired.

Insert a remote probe thermometer into the thickest part of the breast.
Set Up and Preheat Smoker
Set up your smoker for indirect heat and preheat to 225°-275° F. *see note 4. Plan to use the upper shelf if your smoker has multiple racks.
Smoke the Turkey
Place seasoned turkey breast in the smoker furthest from heat source.

Smoke until internal temperature reaches about 148° F.

Place the breast on a large sheet of aluminum foil. Pour melted butter over top or place butter slices on breast, then tightly wrap in the aluminum foil.

Return wrapped breast to smoker and continue cooking until internal temperature reaches 158-160°F. Optionally, increase smoker heat to 325°F to speed up cooking time once the breast is wrapped.

Place back in smoker and continue to cook until the internal temp reaches 158 to 160. (Once the turkey is wrapped, you can turn up the smoker's heat to 325° F if you need to speed up the cook time).
Rest and Slice
Remove smoked turkey breast and let rest while still wrapped in foil for 15-20 minutes.

Unwrap and slice against the grain into ¼" to ½" slices. Save turkey juices and butter from foil for making gravy or drizzling.
Notes
A 2-pound turkey breast will provide about 4 servings.
For bone-in breasts, remove bone using a boning knife and peel off skin.

If your turkey breast was already wet brined, then place it in a bowl of cold water to rinse (debrine) for about 5 minutes to remove excess salt. There is no need to rinse a dry brined bird.

Use a drip pan with a few inches of water in your smoker to catch the drippings and add some humidity to the smoker.
For more smoke flavor in a pellet smoker, use a lower temperature in a pellet smoker, around 225°F. You can also use a pellet smoke tube for more smoke flavor.
For food safety, cook to an internal temperature of 165°F.
Simple turkey rub recipe:
1 tablespoon brown sugar
1 teaspoon smoked pap
1 teaspoon each onion and garlic powder
½ teaspoon each thyme rosemary
¼ teaspoon cayenne pepper